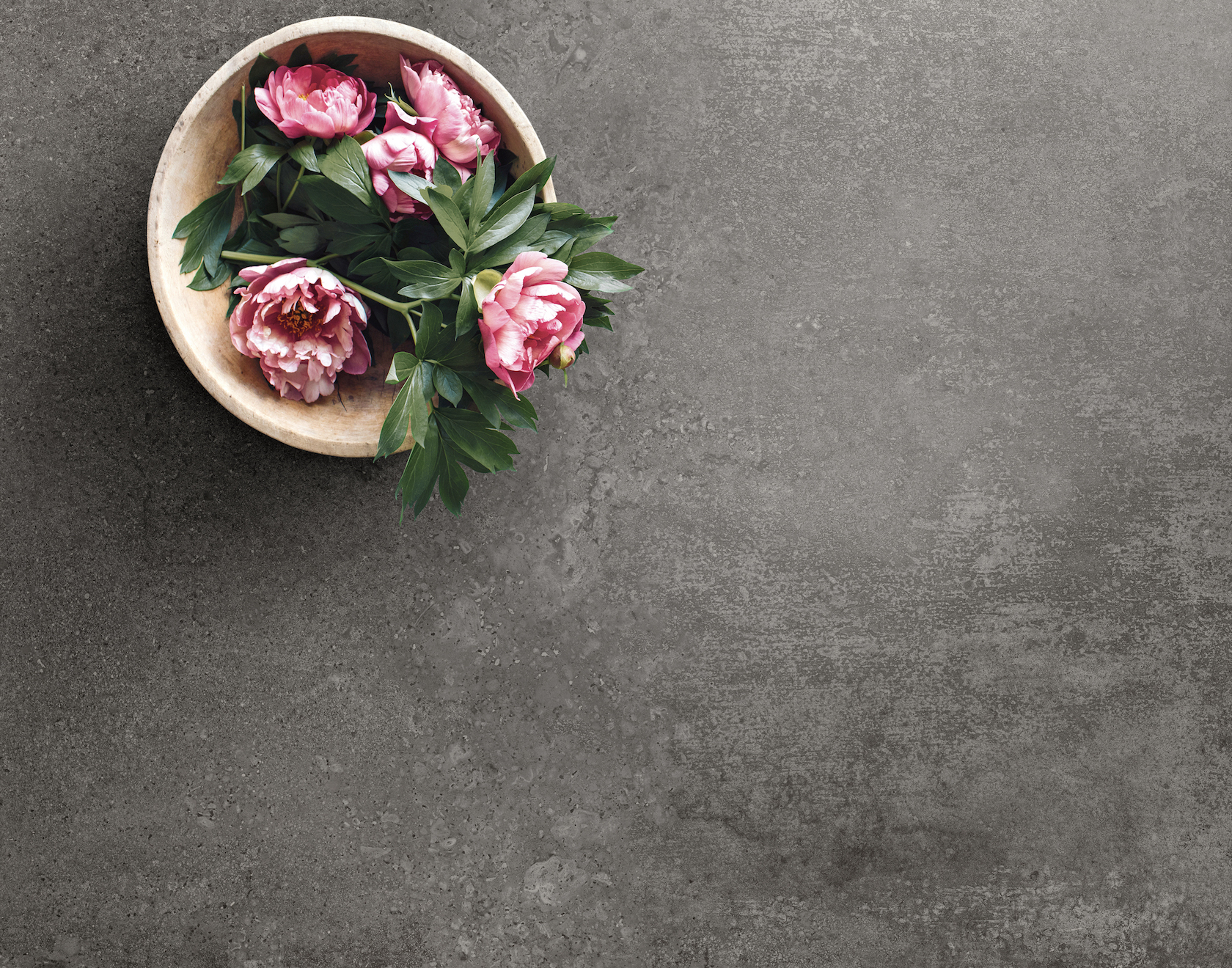 Product.
What is porcelain stoneware?
The name porcelain stoneware refers to a ceramic product which is extremely compact, with considerable technical specifications (high resistance to flexing, scratching, abrasion, chemical and atmospheric agents) and with practically no porosity. This characteristic is due to the fact that during firing (at high temperatures over 1250° C) the product closes all porosity, which means that it is completely vitrified and consequently frost proof.
What is the difference between glazed porcelains stoneware and full body porcelain stoneware?
Full body porcelain stoneware is a technical product that shows the colours that cross the whole body of the tile on its surface. This characteristic means that, during the life of the product, any small signs of wear on the surface remain minimal and don't compromise the functional characteristics of the product in any way. The unique aesthetic values and technical performance render the product suitable for both residential use and commercial use, even for more demanding stresses. Glazed porcelains stoneware is a product that is further enriched with applications of glazes and decorations on the surface to achieve more sophisticated aesthetic effects. Due to its aesthetic characteristics it is usually more indicated for residential use or for commercial use with average stresses.
What is the difference between rectified and non-rectified tiles?
During firing ceramic undergoes a dimensional transformation and it reduces by about 10% from the pressing dimension. This can result in small differences of the order of tenths of a millimetre between pieces of the same nominal format and different calibres between productions. Rectification is a process that is carried out on the edge of the tile. The edges are squared with a mechanical process, that renders the tiles all of the same calibre and of the same exact dimension, so that they can be laid with a minimal joint (recommended 2 mm). The non-rectified tiles maintain the natural edges from the press and require larger joints.
What difference between interior and exterior tiles?
All tiles are resistant against stains and chemical agents. A tile for exteriors, however, must have different characteristics compared to one used for interiors, because it comes into contact with environmental agents. To be used outside the tiles must be frost proof and they must have a high non-slip coefficient.
What is double firing?
The name double firing comes from the production method of this type of product that includes two separate firing phases. The support is created in the first phase. It is made with pressed clay and, once fired, it is called 'biscuit' in the trade. The biscuit is then decorated with coloured glazes and surface applications and then fired a second time to obtain the finished product. Typically this is the product that led to modern ceramics and to this day it allows for an almost infinite range of colours.
Why are double-fired riles only used for facing?
They are only used for facing because they are more fragile and delicate compared to other technologies that have come afterwards, through innovations of the process and new clays. This process is still used because it allows for richer and brighter surfaces compared to other production methods. Moreover it is light and easy to work with for layers and these advantages make this product, to this day, ideal for facing bathrooms and kitchens, and commercial activities such as bars and restaurants.
What kind of finish can the surface of a tile have?
The surface of a tile is also unique due to its tactile and visual characteristics. It can be smooth, structured in various ways or bush hammered, revealing all the characteristics of the model that has been used as reference in constructing the product. The surface finish of the product after firing is called natural. The surface of porcelain stoneware can be changed with a mechanical process called lapping, which changes the surface, rendering it less shiny without removing material. Only full-body porcelain stoneware can be smoothed, by removing 1 mm of material from the pressed surface, to render it even brighter, because mirror-polished.
What is tone?
The tone is the colour shade of a specific production batch of tiles. Considering that it is almost impossible to product pieces with an identical shade of colour in industrial production, before being packaged the tiles are grouped together in uniform colours, that is by tone. We mustn't forget that the tone can also differ slightly between different productions over time, as the process involves raw materials that are fired and then undergo a chemical transformation at over 1250° C.
What is the shade variation?
Each tile has its own shade. The degree of shade variation indicates the level of uniformity of the tile colour of a series and ranges from V1 (uniform appearance) to V4 (substantial variation). The shade difference in a series identifies an aesthetic characteristic of a product that normally is due to the original material taken as reference model (e.g. marble in nature has a high degree of shade difference, whilst sand is very uniform).
How can I choose the best tile for my needs?
Every space has different specifications. Is it an exterior or interior? Is it a commercial or residential building? Is it a floor or facing? Contact one of our experts or go to one of our sales points for a free consultation and to discover the best solution for your needs. Consult our 'Sales points' age to find the closest reseller to you.
Thicknesses.
What are the characteristics of the thin 6.5 mm thickness?
Thin, light and hard-wearing. In a mere 6.5 mm of thickness we have achieved unthinkable levels of strength, resistance and flexibility. The modulus of rupture is greater than 45 N/mm2. It is available in a wide range of formats that range from 30×60 cm, 60x60cm, 60×120 cm to large slabs such as 120×120 cm, 120×240 cm and 120×260 cm.
Is the 6.5 mm format easy to lay?
Its thinness and lightness guarantee shorter laying times than traditional products.
One of the unique features of all our 6.5 mm thick products is how easy they are to work with. The material is easy to cut, shape and drill both manually by the installer and with automatic machines and tools for working porcelain stoneware. We recommend always using gloves for the manual operations and protective goggles and dust masks when using mechanical tools such as grinders, drills or milling cutters.
In order for the 6.5 mm thick product to be laid correctly, it requires a control by the installer of the specifications of the existing substrate, because it must be perfectly level. When laying, we recommend the double spreading technique of the adhesive. The Joints must be at least 2 mm wide, as recommended in the various laying standards (in Italy UNI 11493), because they considerably reduce the stiffness of the material laid.
Is the 6.5 mm thick product cleaned in the same way as traditional ceramics?
Yes, the thin 6.5 mm slab is easy to clean and doesn't require any particular maintenance. It has the same characteristics of ceramics with traditional thickness: the surface of the product is resistant to acid, stains and atmospheric agents. A compact and non-absorbent surface renders the slabs easy to clean with ordinary detergents and completely hygienic for any use.
How can this type of thin tiles be used?
There are multiples uses: indoor and outdoor floorings and facings for residential and light commercial uses. The slabs can also be overlaid on pre-existing floorings. The extra size slabs in the formats 120×260 and 120×240 cm, are also particularly suitable to decorate walls as well as to cover doors or built-in wardrobes.
When and why should I choose the 20 mm thick format for exteriors?
The 20 mm thick format lends a dynamic and contemporary feel to exterior space. It is easy to lay on any type of flooring and is highly resistant to any wear factor. 20 mm is the ideal solution for walkways, paths and other projects close to gardens, courtyards and other outdoor design solutions.
What are the advantages of the 20 mm format?
Cooperativa Ceramica d'Imola offers a wide range of formats and surface finishes in the 20 mm thick format to meet any type of functional and aesthetic requirement. In order to be laid outdoors the tiles are frost proof and resistant to salt and sudden temperature changes. It is slip-proof, resistant to loads (such as cars, etc.), wear and atmospheric agents. It is resistant to mould and moss.
How do you lay the 20 mm format?
As it is a monolithic tile, each piece can be laid on an existing layer of grass, gravel or sand. The tiles can be laid side by side to achieve a continuous surface, or you can leave a uniform joint, more or less wide, between each element, through which the substrate (such as grass) can continue growing, lending a more natural aspect to the flooring. They are dry laid: a simple and quick installation technique that avoids splits and breakages. The laying can also be on raised flooring systems, to overcome problems of planarity. The system consists of support panels paired to the finishing surface, positioned on the supporting structure that allows the floor to be raised, creating a gap for all technological requirements. This type of laying has various advantages such as: the flooring can be inspected to check for any leaves or residue that can block the correct flow of water;
prevents the build up of water on the surface, maintaining the joints between the slabs open for drainage; the flexibility of the system allows covered areas to be changed without any demolition work. The system can be installed on an existing flooring, without having to remove it so that the exterior surface can be renovated without unnecessary costs.
Maintenance and cleaning.
How should you clean porcelain stoneware the first time?
Washing after laying is a fundamentally important phase for all subsequent maintenance interventions. This phase removes any laying residue and normal site dirt such as: filler, mortar, glue, paint, etc. Once the cement grout has hardened, clean with a buffered acid detergent, following the use and dilution instructions indicated on the manufacturer's packaging scrupulously. For this operation we recommend buffered acids such as Faber's Cement Remover, FILA's DETERDEK or similar products, because they don't release harmful fumes and don't attack the joints, as follows:
– Use the detergent diluted by 1:5 (1 litre of detergent in 5 litres of warm water). Brush and vacuum the flooring thoroughly and distribute the diluted acid solution uniformly with a normal microfibre cloth, or for large surfaces, use a brushing machine with scotch-brite discs with a pad of a suitable colour for the surface being treated.
– Leave the solution to act based on the intensity of the dirt and the type of product.
– Perform a mechanical action with the microfibre cloth, or with a brush with nylon bristles for structured surfaces, or for large surfaces, use a brushing machine with scotch-brite discs with a pad of a suitable colour for the surface being treated.
– Collect any residue with cloths or with a water vacuum.
– Rinse thoroughly with water, repeating the operation as often as required to remove any type of mark or residue. If there are still areas that are not perfectly clean, repeat the acid wash at higher concentrations.
WARNING: This intervention could be aggressive for materials and components positioned close to the tiled area, such as, marble thresholds and windowsills, metal doors and windows and others; we therefore recommend protecting the parts adequately before proceeding with the cleaning.
If an epoxy grouting has been used, you must use epoxy cleaners of the grouting manufacturers or Faber's Epoxy cleaner, Fila's CR10 or similar products, following the indications on the packing scrupulously.
How should decorations and special inserts with material applications (gold, silver, polishes, etc.) be cleaned the first time?
The materials used for these decorations have particular characteristics, typical of precious metals. Pay utmost attention during the laying (avoid clue/grout residues on the surface of the material) and, most importantly, the cleaning. Do not use abrasive products that could scratch and damage the surface.
To clean we recommend using only soft cloths with warm water and alcohol. Do not abrasive products. This is why complaints and/or disputes cannot be accepted once the laying has been completed.
How should you clean porcelain stoneware?
To clean porcelain stoneware correctly use a microfibre cloth with a diluted solution of neutral detergent for tiles, such as Faber's Floor Cleaner, Fila's Cleaner or similar products, following the use and dilution instructions indicated on the manufacturer's packaging. Avoid using waxing and/or impregnating products; for large surfaces we recommend using washer-dryers.
Every day:
– Remove dust with brushes or vacuum cleaners.
– Wash with the aforementioned detergents (or low residue neutral detergents) in a 1:200 dilution (one small cup in 5 litres) with a damp cloth, which must be rinsed often in the solution.
WARNING: If the flooring, after any type of cleaning, shows the signs of the cloth passage, wash well with clean water, rinsing often and squeezing the cloth well. Never exceed the quantity of detergent to dilute in water, unless the flooring is particularly dirty and it will be rinsed at the end.
We recommend performing a degreasing wash with Faber's Tile Cleaner, FILA's PS/87 or similar products in a 1:20 dilution in water (possibly warm, to render it more effective), followed by a thorough rinse; or descaling washing if there is scale residue, use Faber's Cement Remover, FILA's DETERDEK or similar products in a 1:20 dilution in water (possibly warm, to render it more effective), followed by a thorough rinse.
WARNING: If there are still areas that are not perfectly clean, repeat the degreasing and/or descaling wash at higher concentrations. The operator assigned to this intervention must always proceed with a preliminary check on a small section of material.
How to remove different types of stains on the ceramic materials?
The extraordinary maintenance must only be made if there are various types of stains or marks that cannot be removed with ordinary maintenance. They can be removed with a chemical reaction between the stain the detergent, therefore, based on the nature of the dirt, you can use a suitable solution, as shown in the table below.
Environmental sustainability.
Has Cooperativa Ceramica d'Imola implemented a series of initiatives to be "ecologically aware"?
Yes, Cooperativa Ceramica d'Imola has always been attentive to the dynamics involved in protecting the environment. We have been working for several years on an adequate identification and installation of the technical and system resources, in line with a green policy aimed at the company's eco-efficiency and sustainability.
Every day the expansion of the human activity goes hand in hand with the reduction of the ecosystem's ability to regenerate itself. If the ecosystem had a higher production pace, we wouldn't be here worrying about our needs and for those of future generations. This is why today more than ever, eco-sustainability is a value that must be pursued and shared. This is why Cooperativa Ceramica d'Imola has implemented a series of initiatives to render itself and all its employees "ecologically aware" and more attentive in their day to day activities, starting from recycling 96% of waste from the industrial activities and offices every day, to be recycled for other uses.
Do Cooperativa Ceramica d'Imola materials contain post-industrial waste?
Yes, the waste generated in producing our products is re-introduced in the production cycle. It mainly consists of broken tiles, fired and not, that are processed once again and placed in specific mixes as replacement for certain natural raw materials. At the same time the production process is able to reduce the consumption of water, energy and CO2 emissions.
How does Cooperativa Ceramica d'Imola check the environmental impact of its production?
A department of Cooperativa Ceramica d'Imola is focused entirely on the environmental aspects. All the environmental aspects and the impact that our plants have on the territory are constantly assessed and monitored. The main activities range from the assessment of the noise levels to the emissions in the atmosphere, water drainage and waste management.
What certificates do the Cooperativa Ceramica d'Imola have?
The company has obtained important acknowledgements such as the Environmental Certificate ISO 14001, the Emas registration, the L.E.E.D. credits, the Ecolabel certifications and the production of ceramic products marked CE, CCC, as well as the Quality system certification ISO 9001.
Are Cooperativa Ceramica d'Imola materials certified LEED?
Cooperativa Ceramica d'Imola is a member of the Green Building Council Italia, which seeks to promote the LEED accreditation system.
Do the Cooperativa Ceramica d'Imola materials contribute to obtaining points for the LEED certification?
In relation to the characteristics and production process in which they are manufactured, the Cooperativa Ceramica d'Imola tiles can help achieve L.E.E.D (Leadership in Energy and Environmental Design) credits. LEED is an energy-environmental accreditation system for buildings and is characterised by a points system attributed according to the verified conformity of several pre-established "credits".